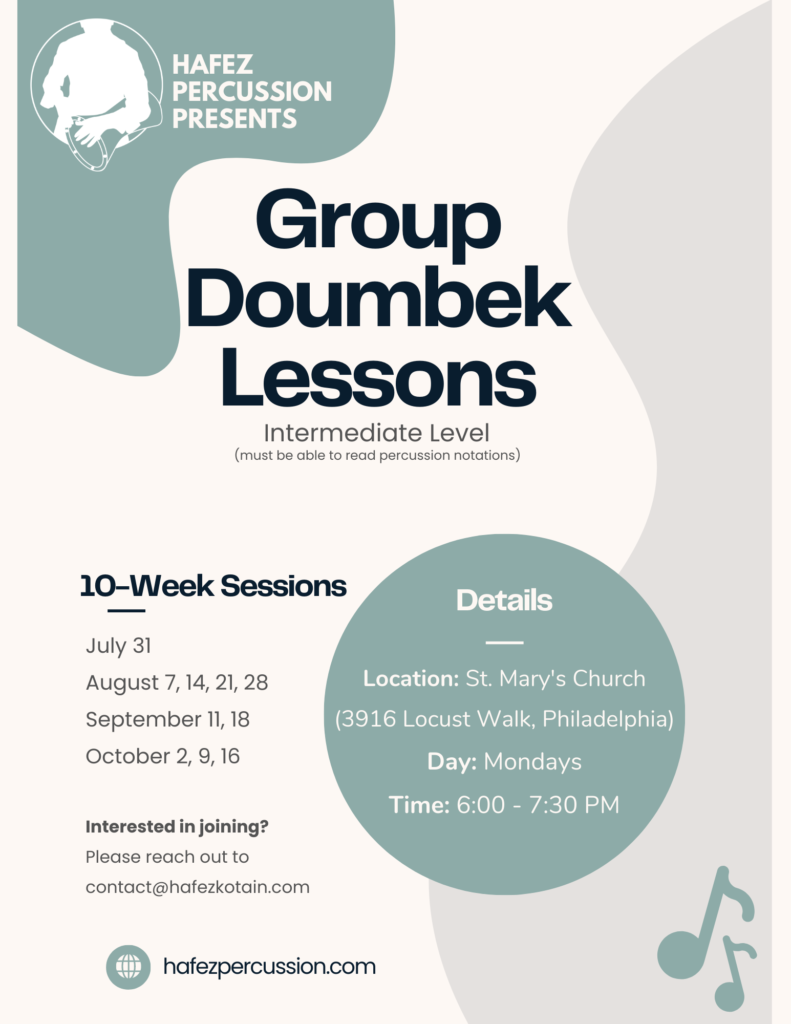 GROUP DOUMBEK LESSONS NOW AVAILABLE! 
Hafez Percussion is now offering group lessons. Join Hafez Kotain every Monday at St. Mary's Church (3916 Locust Walk, Philadelphia, PA) to learn the art of playing the Doumbek and Arab percussion! 
Intermediate Level Registration
Classes will meet on Monday's from 6:00-7:30PM at St. Mary's Church. Please refer to dates below:
July 31
August 7, 14, 21, 28
September 11, 18
October 2, 9, 16
Program Cost: $400 (10 Weeks)
Please note the Intermediate Level students must be able to read percussion notations and  have to submit a video showing their skill set. Based on your level, Hafez will determine your group level registration.
If you have any questions, please reach out to Hafez Kotain at [email protected].  
Beginner Level Registration
More information to follow. If interested in taking beginner group lessons in-person or virtually, please reach out to [email protected]. 
NOW TAKING REGISTRATION FOR PRIVATE LESSONS! 
Hafez is currently offering in-person and online lessons for ages 7 and older. If interested in learning the Doumbek and Riq and require additional information, please contact him at [email protected].